Forlengerkabler
For an easy installation, larger boats may require extension cables. You can order those here.
Extension for the Bilge Sentry
The Bilge Sentry comes with a 5 ft. cable connected directly to the sensor. If that cable cannot reach your bilge, then you'll need this extension cable.
This extension cable has 5 pins and is available in 2 lengths: 10 ft and 20 ft. The system supports extension with up to two extension cables (40 ft. max).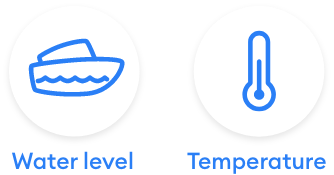 Extension for the Battery Cable
The cable set that comes with Sensar Marine is 6.5 feet long. If you need to reach further than 6.5 feet to get to your boat batteries, then you will need this extension cable or you will need to extend the leads on the battery cables yourself.
The cable has 4 pins and is available in 2 lengths: 5 ft and 10 ft.